Refined Cord Shirtdress
Based purely on the recommendation of my fellow bloggers, I bought this dress.
I ordered from NYC, so I could get the extra 25% off, I sure hope it works!
I spent most of the morning Tuesday on the phone with various Anthropologie B&M locations trying to track down some of my wishlisted sale scores. Most were 2nd or more cuts!
Monday Tuesday
In the Heather Crops
I already have these in brown, and LOVE them.
I ordered the grey for $9.95 from Chesnut Hill, MA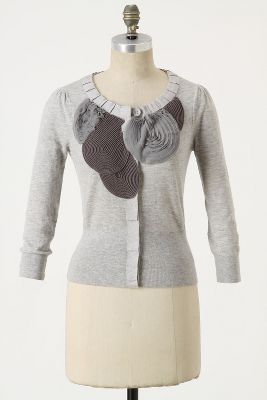 Knitted & Knotted
Cotton Candy Clouds Cardigan
I recieved this as a gift from Jay around my birthday, but it ran very small.
It was fitted in a size small, and too itchy not to wear something under it. So I returned it for $50 credit in NYC.
I ordered a medium (from Minneapolis), so I can wear a button-down under it for $19.95!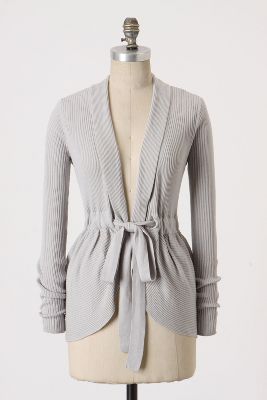 Sparrow Midnights Spring Cardigan
This was probably THE steal of the day!
Ordered from Chelsea NYC, so I recieved 25% off the low price of $9.95!
I hope it all comes, since I ordered from so many locations, it is a crap-shoot! Can't wait to try it all on!